The Important Role of Digital Menu Boards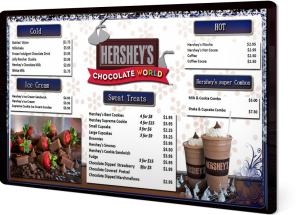 Do you spending a big amount of money in updating your menus or printing posters about promotions that are running by you? Maybe it's been years since you even well thought-out making a change to your menus. Are you rebellious to retain customers and attract a new audience? You don't need to worry because there is availability of digital menus.
Why people like to have Digital Menu Boards?
A digital menu board shows a more realistic expectation of what does food looks like, giving Restaurants the opportunity to draw people in and make them hungry. A digital menu gives Restaurants better control over where the customer's eyes go. Take advantage of video and animated gifs. Entertain and educate people waiting in line or walking by restaurant.
Restaurants without digital menus have a line item on their budget that restaurants with digital menus do not have. After investing in Digital Menu Boards, restaurant owner no longer have to send regular promotions and menu changes to your printers. Their front-line staff won't be responsible for taking down and replacing old poster boards. Simply, save on hard costs and involve fewer people.
With Digital Menu Boards you can cut the printer out of the picture, and your signage design gets easier and easier. When you get access to the creative one need, one can control the user experience using digital signage software. It's simple to learn and run, so it can cut out the middleman. You can Display your Face book feed to enhance content and encourage customers to like the page, show a calendar of upcoming events, and set up schedules to show the right content at the right time of the day and week.
Digital menus entertain customers. A digital display outside restaurant is more likely to draw in someone walking by than a menu inside a glass frame. A digital menu board is the opportunity to bring the menu to life. It goes beyond listing the items available for choosing — it includes detaining videos, enticing graphics, lists specials, and everything else you want your customers to be familiar with. In some areas, it's required by law to list calorie content — what a mess this small print would make all over your traditional menus!
Role of Digital Menu Boards in Marketing
Digital menu boards can do a lot more things such as:
• Display different menu items given the time of day or circumstance
• Broadcast product commercials
• Inform customers of ongoing promotions
• Assist customers in choosing the right product
• Televise programming relating to the product such as infomercials
• Entertain customers while they wait in line
• Involve customers with interactive programs that promote the product
Whether it's enticing patrons to choose to eat at a particular restaurant, dayparting messaging to reflect the appropriate meal of the day, promoting higher margin menu items or ensuring consistency of messaging around the country from a central location, dynamic digital menu boards offer significant advantages to restaurant managers over traditionally displayed menus. Perhaps now is the time to put those advantages to work at your restaurant before the establishment down the block does.
About Author
admin